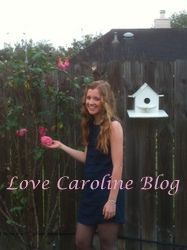 Good news everyone, I have finally made a blog button! So glad that I finally decieded to make one!
If you would like to swap buttons with me, just email me at
lovecarolineblog@gmail.com
. If you want to swap with me, I will place your button on my sidebar and ask that you do the same with mine.
If you want to make your own blog button go to
Rylee Blakes Blog.
She has a great tutorial on how to make one, and it only takes about 10 minututes!
For those of you who don't know what a blog button is. It is an icon that links directly to your blog, that can be posted on someone elses blog. A blog button helps to increase the range of people who look at your blog.
What do you think of blog buttons? Do you feel a it is a great enhancer to a blog?
Thank you so much for visiting Love, Caroline! I would love to hear from you by leaving a comment below or contacting me through email. Your support is always so appreciated! Have a great rest of the week!!